First 'Quidditch' British Cup held in Oxford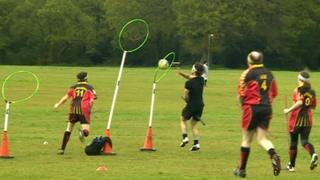 The first Quidditch British Cup has taken place in Oxford with the top 16 teams in Britain and Ireland competing.
In total 26 matches for the inaugural national tournament took place in the University Parks grounds.
Chairman of Quidditch UK Ben Morton said this was "the biggest Quidditch tournament outside America".
The game features in the Harry Potter series for trainee wizards and witches but has been adapted for "muggles" - non-magical people - to play.
'Popularity boom'
The object of the game is to throw a ball through three hoops guarded by opponents and catch the snitch - which is represented by a person in yellow.
Players have to run with a stick between their legs to represent a broomstick.
Seven members of a team are on the field but each team has 21 players for rolling substitutes.
Mr Morton, 22, said the game had grown in popularity.
"When Quidditch UK started two years ago we had four teams. By the end of the year we had 20 teams.
"Now we have just over 30 teams in the UK".
He said players did not have to be fans of the Harry Potter series, written by author JK Rowling, but that for many players the appeal starts with the books and films.
The quarter-finals, semi-finals and finals took place on Sunday.
It is hoped the top teams will qualify to compete in the European Regionals at the start of 2014.
The International Quidditch World Cup takes place in April.