Oxford City Council's River Thames 'problem boaters' plan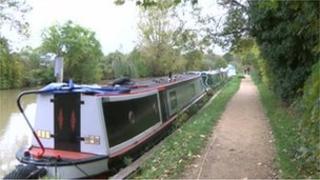 Ownership of a stretch of Thames riverbank could be taken over by Oxford City Council in a bid to stop boats mooring there permanently.
The council said its plan followed a series of complaints from residents on Abbey Road about "problem boaters".
Moorings are currently allowed for 48 hours over a 21-day period, but without ownership the council said this is difficult to enforce.
Boat owners say there are not enough residential moorings in the city.
The authority said the ownership of the land near Abbey Road is unknown but it has been maintaining it for "decades".
Julian Levay, an Abbey Road resident, said he had experienced problems including fly-tipping, noise, open petrol cans and a caravan being left on the embankment.
Steve Priest has moored his boat on the affected stretch for the past three years because he "enjoys it" and is also on a low income.
He said he would be happy to pay for "affordable" residential moorings there.
Councillor Colin Cook, the council's board member for development, described permanent moorings on the Thames as "a limited resource", but said there were areas off the main river which could be suitable.
He added boat owners would have to approach the other landowners for permissions.
The council plans are expected to be discussed next week.