Scrap metal 'sting': Simon Rogers and Martin Pace guilty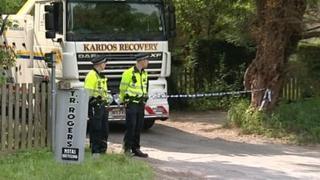 Two scrap metal dealers have been found guilty of concealing, disguising or converting stolen property following an undercover police operation.
Simon Rogers, 43, and Martin Pace, 36, were convicted following an eight-week trial at Oxford Crown Court.
The pair worked at T R Rogers & Sons in Nuneham Courtenay, Oxfordshire and will be sentenced on Thursday.
Three other employees, Terence Rogers, Ian Marshall and Darren Andrews were acquitted of the same charges.
During the trial, the court heard how undercover police officers, who gave evidence anonymously and behind a screen, visited the yard on nine occasions between March and May last year.
'Ask no questions'
Known as "Andy" and "Kinger", the officers would talk about how they had had "no sleep" after spending the night stealing copper power and phone cables, as well as lead from a church roof.
The prosecution said the men Rogers, of Bromsgrove, Faringdon and Pace, of Abbott Road, Didcot, accepted the stolen items on an "ask no questions" basis.
Under cross-examination, the defence called the officers' undercover operation "sloppy and careless", adding they were part of a "deliberate ploy" to force the men into buying the stolen metal.
Speaking outside court, Det Con Simon Easton from Thames Valley Police welcomed the conviction of two of the defendants.
He said: "This has been a long and complex investigation.
"The men knowingly bought scrap metal from undercover officers posing as metal thieves, who made no attempts to conceal the illegal provenance of the materials they were offering for sale.
"Thames Valley Police has strived to tackle metal theft and will robustly pursue those involved in the illegal scrap metal trade."