Oxfordshire home school transport cuts plan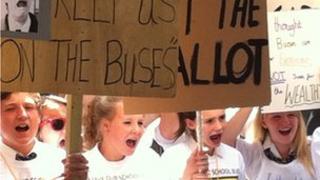 Plans to cut some home-to-school transport subsidies in Oxfordshire have gone out to public consultation for a second time.
Oxfordshire County Council opted to defer its decision on any changes to the scheme during the summer.
It said it had revised its proposals and was consulting on two options.
They include limiting free transport to pupils who attend their nearest school but are not within walking distance.
The authority said its current provision was "more generous" than the national statutory level and not considered sustainable given the "ongoing pressure" to cut its budget.
It added some children received free transport to their catchment school even though an alternative school exists within walking distance.
'Majority unaffected'
A demonstration of 40 children and parents from the Warriner School in Bloxham, Burford School and St Swithuns in Kennington was held in July against the cuts.
The council said the "vast majority" of children qualifying for free transport would not be affected by the changes, which it hopes will achieve estimated annual savings of up to £2m.
Options for introducing the changes include applying the new policy to all children starting school in September 2015 and extending it to all other children after two years.
The authority said it had to find an additional £61m of savings up to 2018 on top of the £74m it had already planned.
The consultation will run until 20 December and a report is expected to go before the council's cabinet in January.