Banbury homeless charity sees 'surge in demand'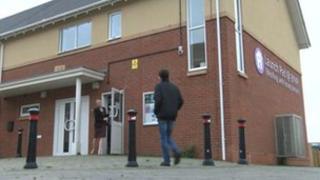 The number of young people seeking help for homelessness in an Oxfordshire town has surged, a charity has claimed.
Banbury Young Homeless Project (BYHP) said it had helped 120 people in six months this year, more than it dealt with throughout 2012.
Chief executive Anna Day said young people were facing "massive issues" after changes to housing benefits.
Cherwell District Council said its "prevention ethos" meant there had been no rise in emergency housing need.
BYHP mainly helps 16-25 year olds with advice on benefits, counselling, a food bank and a supported lodging scheme.
Ms Day said the charity was "under tremendous strain" with the growing demand for intensive support, particularly among young people with learning difficulties.
"There is still sometimes the expectation that 16 is the age of the end of parental responsibility so we spend a lot of time working with parents to help them understand they need to be supporting their young people until they are financially capable of moving away from home,
"It's really deplorable that people should end up homeless at the age of 16 - it's a very tough call for young people who have had a difficult or abused life.
"We're seeing a massive increase in the problems young people are having in sustaining their accommodation, particularly with the because of the lack of employment prospects young people need to thrive and survive," she said.
The government insists the capping of Local Housing Allowance and changes to the spare room subsidy are designed to make the system fairer and cut the £23bn annual bill for housing benefit.
Kate Winstanley, strategic housing officer for Conservative-run Cherwell District Council said: "We're very aware of the effects of welfare reform, but with a strong homelessness-prevention ethos, we haven't seen an increase in [emergency housing] acceptances among young people.
"We want to make sure young people who are vulnerable are housed in suitable, supported housing and work to help other young people become housing-ready, so they have the skills to deal with a tenancy.
A homelessness action plan is due to go before the council next week.
Jason Edmonds, 18, was helped by BYHP after he left home following difficulties with his family.
"Things have changed - my confidence has grown a lot, the support workers have helped me through difficult times.
"It's really frustrating as young people do need some form of money to be able to live. [At BYHP] we are told how to budget.
"I'd encourage all young people to come and get help if they find themselves in times of need," he said.