River Thames hydro-power scheme approved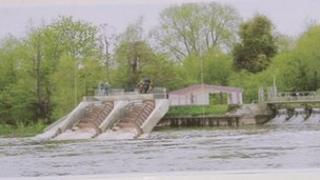 A hydro-power scheme on the River Thames in Oxfordshire has been given planning approval.
Councillors at the Vale of White Horse District Council voted to grant the plans at a meeting on Wednesday.
The £1m hydro-electric scheme positioned on the river near a weir in Abingdon will create enough power for 200 homes.
The two giant 10-tonne hydrodynamic screws at Abbey Meadow will feed electricity into the national grid.
Run by a co-operative, Abingdon Hydro, shares will be sold to raise the money needed to install it.
Richard Riggs, from Abingdon Hydro, said: "There is much still to do, but it is an important step forward."
The Environment Agency granted Abingdon Hydro a licence to develop the generator in May allowing the group to submit a planning application.
The group said the water turbines, which have a lifespan of around 40 years, could generate about £120,000 annually.