Castle Quay Shopping Centre plans criticised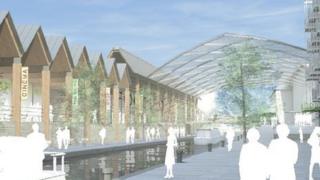 An extension to a market town's shopping centre could "ruin" the area, campaigners against the plans said.
Proposals for Castle Quay Shopping Centre in Banbury, Oxfordshire, include a 92-bedroom hotel, cinema, restaurants, cafes and a supermarket.
Michael Gibbard, at Cherwell District Council, said it was an application of "magnitude".
Gemma Prescott, manager of the GF Club, said "community-based" establishments like hers would be forced to relocate.
The bar, the former Spiceball Leisure Centre, currently used as a car park, and land adjacent to the Oxford Canal could be redeveloped.
'Enhancing Banbury'
Ms Prescott, who has a petition with 900 signatures of people opposed to the plans, added: "We've got shopping centres already and half the shops are empty.
"We've got five hotels at the top of the town. What are they going to do for business?
"Maybe a facelift is the way to go, but why move something that is so community-involved?"
The council estimates more than 700 jobs would be created.
A new glazed canopy would be built over the Oxford Canal and new bridges across the canal and the River Cherwell to "enhance the canal as a destination in Banbury".
Mr Gibbard, who is lead member for planning, said: "Cherwell and the public have been anticipating the submission of these plans for some months and now everyone finally has the opportunity to see exactly what is being proposed for the centre of Banbury.
"These plans constitute a major development and will be of interest to a lot of people so we would encourage as many people as possible to take the time to view them."
The plans were submitted by Scottish Widows PLC and Scottish Widows Unit Funds Ltd.
It is estimated the extension will take five years to build.
The current complex receives about 250,000 visitors per week.