Clems nightclub in Oxford repainted after complaints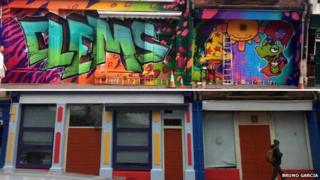 An Oxford nightclub criticised for its graffiti-style exterior is being repainted so it is more "in keeping" with the surrounding conservation area.
Two colourful designs on the Clems nighclub, on St Clement's Street, have already been painted over because people complained to the city council.
The artwork has been called 'sub-Banksy' and likened to a "naff" ghost train from the 1990s.
Manager Bruno Garcia said he was now repainting the frontage all blue.
Originally, the club's name was painted in large letters. The council said this exceeded the maximum height of 75cm (2ft 5in) and told the club it would need "advertising consent".
Cartoon characters were then painted over the work, but this was "not in keeping within the surrounding area", the council said.
'Good news'
The current design is a mix of blue, yellow and red paint.
Mr Garcia said: "We had to do what we had to do - we just want to make sure everyone is happy."
Plans for the new paint job prompted comments on Twitter, including from @bevclack who described it as "good news".
"Sub-banksy frontage was totally out of place," she said.
Another user, @DuncanStott, posted: "It looked like a naff early 90's ghost train before."
Oxford-based art historian and critic Estelle Lovatt had defended the mural, but ward councillor Graham Jones said he had received many complaints about it.