Oxfam to cut UK posts and shut offices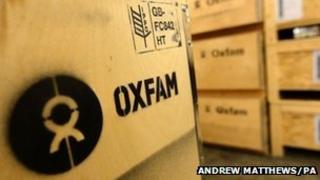 Oxfam is set to cut 125 posts in the UK and close several of its regional offices to make it more "efficient", the charity has said.
Its headquarters in Oxford will be most affected, with 110 jobs being axed.
The charity is also expected to concentrate its work on fewer countries.
Mark Goldring, Oxfam CEO, said: "It is imperative that we have an Oxfam which lives within its means and is relevant to 21st century needs."
Several departments will be reduced, including human resources, finance, business support, and campaigns and policy.
'Advances in technology'
The changes reflect a shift in the organisation's priorities, it said.
They would also "balance its budget and, in due course, provide additional funds to invest in programmes".
Resources are to be focused on poorer countries, including promoting poor women's rights.
Mr Goldring said: "Advances in technology mean we no longer need as much support in head office.
"Instead, our resources will be focused in the regions where we carry out the majority of our work.
"This will mean we can deliver the most effective and efficient support to the millions of people who go to sleep hungry each night."
Jane Cotton, Oxfam's human resources director, said: "This is the start of a consultation process with staff.
"We will make every effort to keep the number of redundancies to a minimum and where possible we will redeploy people and help colleagues find work elsewhere if this is not practical."
Decline in donations
Further changes will be made to Oxfam's international programme, starting in 2015.
Its income fell £17.6m to £367.9m in the year to 31 March, with its two main sources of money, shops and fundraising, down on the previous year.
The charity's annual report showed its shops' net income fell 9.9% to £20.1m, while fundraising fell 5.6% to £267.8m.
It blamed the fall on tough economic times, and said many shops had reported a decline in donations.
Problems in Syria, Yemen and West Africa had also stretched its resources, Mr Goldring said.
Oxfam GB employs 5,300 people across the world and has more than 22,000 volunteers.