Oxford £100m development plan to face more scrutiny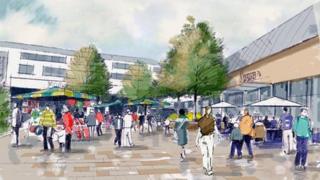 A £100m redevelopment plan for a shopping area near Oxford is to be scrutinised in more detail.
Proposals for West Way shopping area in Botley were debated by councillors on Wednesday evening.
Opponents argue the plans including student accommodation, a supermarket and a six-screen cinema, need downsizing.
Vale of White Horse District Council is expected to examine the development further in November.
A motion to abandon the plans was withdrawn by Liberal Democrat councillor Debby Hallett during Wednesday's meeting.
Leader of the Conservative-run council Matthew Barber said: "I'm fully aware of the concerns people have and we're happy to take those on board to see where we can improve the plan.
"Legally, we're not in a position where we can abandon the contract completely.
"We need to work with the plan we currently have."
'Growing community'
Campaigners from West Way Community Concern welcomed the council's decision for more debate.
Co-chairman Chris Church said: "This is a good start, but the council needs to act, not talk.
"This redevelopment can go ahead on a scale originally discussed.
"The smaller-scale scheme originally proposed would meet the needs for a better shopping centre in Botley."
Councillor Barber said the previous scheme was no longer viable as the original developer had withdrawn from the contract.
Current developer Doric Properties said the council had been interested in regenerating the area for 15 years.
Simon Hillcox, from Doric, said the proposals were "designed to bring Botley up to date with modern facilities and serve the future needs of a growing community".
Doric say the regeneration would create at least 600 new full and part-time jobs.