Oxford University Castle Mill flats will not get judicial review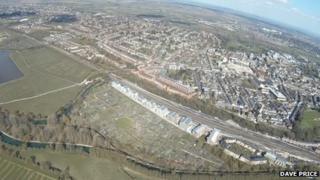 A High Court judge has ruled there will not be a judicial review of the decision to build Oxford University student flats near a beauty spot.
The Campaign to Protect Rural England (CPRE) took its case over the £21.5m Castle Mill development on Port Meadow to the High Court.
Mr Justice Lewis said an environmental assessment was being carried out by the university.
He also ruled campaigners would not have to pay the council's legal costs.
The case was heard at the High Court, sitting in Birmingham.
The series of five-storey blocks in Roger Dudman Way will provide 439 units of graduate accommodation.
They overlook a Site of Special Scientific Interest and a Scheduled Ancient Monument, and are built on a former railway sidings site.
'Time wasters'
Helen Marshall, director of CPRE Oxfordshire, said the ruling was "good news in effect".
The council and university would not have proposed the environmental assessment without the legal challenge, she argued.
She added: "The city council tried to dismiss us as time wasters… [but] any further developments of this nature will be looked at with much more care to avoid similar fiascos in the future."
Nicky Moeran of the Save Port Meadow Campaign said: "We are delighted the judge refused the council's claim for costs against us.
"It simply underlines the merits of our case and that we were right to pursue it."
Jeremy Thomas, head of law and governance at Oxford City Council, said: "The court refused permission to the CPRE to continue the judicial review and did not find any errors in how the council handled this planning application.
"We will now focus our attention on the voluntary environmental impact assessment which is being prepared by the university and the independent inquiry that is being held which is also under way."
Oxford University is yet to comment.
An online petition against the development has attracted more than 3,000 signatures.