Bodleian Libraries' archives reveal 'lost' Rycote mansion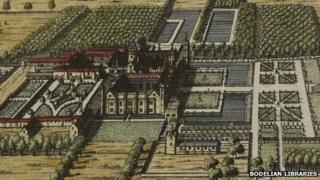 The "lost" history of a Tudor mansion that hosted six English kings and queens, including Henry VIII, has been restored in a new online archive.
Most of Rycote House, near Thame in Oxfordshire, was auctioned off in 1807 by its financially crippled owner and its archive burned.
Archivists at Oxford's Bodleian Libraries have now pieced its history back together.
The archive includes accounts of expenses for entertaining Elizabeth I.
'Regional powerhouse'
Two days work for preparing for her visit in 1570 cost £10, 11s and 6d [£10, 11 shillings and sixpence - the equivalent of about £2,000].
"It included fixing stairs, mending floors, making presses and tables on which to hang the her robes, as well as new nails and locks for added security," said archivist Matthew Neely.
The mansion was originally built for either Sir Richard Fowler, Giles Heron or John, Baron Williams of Thame - but it is not known exactly which one.
More than 400 items, including manuscripts, letters, maps and drawings dating from medieval times, have been collated over six years to create the Rediscovering Rycote website.
Other items included are an early map of Oxfordshire from 1574 by Christopher Saxton, and letters signed by Elizabeth I and Henry IV of France documenting the exploits of Sir John Norris - one of Elizabethan England's leading military commanders.
James I visited the house six times and Henry VIII spent the night there with his new bride, and fifth wife, Catherine Howard in 1540.
Part of the south-west tower of the mansion remains on Rycote Park estate, along with a 15th Century chapel and stable block.
Dr Felicity Heal, Emeritus Fellow at Oxford's Jesus College described Rycote in its heyday as a "regional powerhouse" and said the new archive would be "an invaluable resource for the study of the local and national past".