Teachers on strike 'to be heard' in Oxfordshire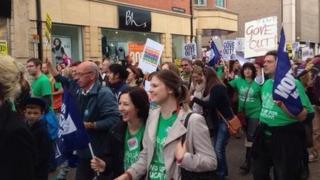 Changes to the education system are "pitting school against school and teacher against teacher", an Oxford deputy head teacher on strike has said.
Schools across Oxfordshire have been affected as unions dispute pay, pensions, job cuts and workload.
Gawain Little, from St Ebbe's Primary School, Oxford, said: "When a government is unwilling to listen... the people have to make it listen."
A Department for Education spokesman called the action "disappointing".
It believes in performance related pay structures under which teachers will only progress up pay scales if they meet certain standards.
More than 150 schools in Oxfordshire are either fully or partially closed because of the action brought by the NUT and NASUWT, the two biggest teaching unions.
There are 295 schools in the county, including nurseries and academies.
A planned protest march is under way in Oxford.
Stuart Robinson, a teacher at the ISIS Academy School in Oxford, was among those taking part in the rally.
He said: "Michael Gove won't listen to us and we spend more time filling in spreadsheets nowadays than we do planning lessons."
'Simple demand'
Mr Little, who is vice president of Oxfordshire NUT, said: "We believe that the changes the government is making are going to be detrimental to teachers, to schools, and ultimately to children's education.
"Teachers don't take strike action lightly but the number of changes we've seen that lead to the fragmentation of our education service has forced us to take action.
"We've one simple demand which is that [Secretary of State for Education] Michael Gove sits down, listens to our concerns and agrees to discuss them - even that he's unwilling to do.
"I think the point comes when a government is unwilling to listen that the people have to make it listen."
Melinda Tilley, Oxfordshire County Council's cabinet member for children, education and families, said: "We do completely understand that schools themselves may be dealing with a very fluid picture.
"We hope that teachers will appreciate that there is an impact on the lives of people beyond the confines of the school."