Brad Pitt Fury film: Stuntman stabbed with bayonet on set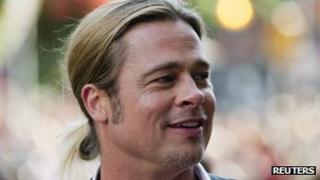 A stuntman has been stabbed in the shoulder with a bayonet on the set of Brad Pitt's new film, Fury.
It is believed the 35-year-old was accidentally injured during a rehearsal at the set in Pyrton, Oxfordshire, at about midday.
He was taken to Oxford's John Radcliffe Hospital by air ambulance.
The Health and Safety Executive has been informed and police said they were not treating it as a crime. The film is being shot on private land.
Earlier this month a letter was sent to residents in Shirburn, Pyrton and Watlington, on behalf of Pinewood Studios, warning them to expect "intermittent controlled gunfire and explosives" during the making of the World War II film.
A spokeswoman for the film's production unit confirmed the stabbing happened as two stuntmen were filming at a converted farm.
Fury also stars Shia LaBeouf and Logan Lerman and is directed by David Ayer.
Pitt stars as battle-hardened army Sgt Wardaddy who commands a Sherman tank and its crew on a mission behind enemy lines.
The film is expected to be released in November 2014.