Oxfordshire council tax 'would need 20% rise' to stop cuts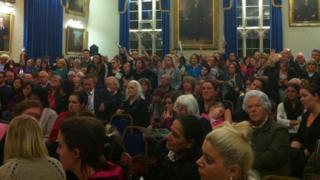 Council tax bills would have to increase by 20% to avoid any cuts in services, Oxfordshire County Council's leader has said.
Councillor Ian Hudspeth made the claim at a public meeting in Banbury on Monday to discuss where to save £61m.
The council needs to save £91m from its budget over the next four years.
More than 250 people at the meeting agreed they would be happy to pay 4% more in council tax to protect some services, such as children's centres.
A 4% rise would generate an additional £5.4m in revenue, money which the council said would allow some children's centres across Oxfordshire to stay open.
But the move would require a referendum and cost about £500,000 to stage.
Mr Hudspeth said he was encouraged by the success of the first meeting.
He said: "We've got to make some really tough decisions and it's not just about children's centres.
"It would have been interesting to get on to some other areas, as it's right across the council where we need to make these savings.
"What do we do with adult social care? What do we do with highways? These are all questions that need asking."
Pat Wood, from mental health charity Restore, was among those in the packed audience.
She said: "I'm not sure what the answers are, we need to start thinking collaboratively about how we can save money.
"We can be heated and we can be emotional, but we're going to have to be realistic.
"In order to preserve services, we might have to think about how we can work differently."
The meeting was the first in a series of five across the county this month asking residents for their views on future budget plans.
The second meeting will be held at County Hall in Oxford starting at 19:30 BST.