Oxford Half Marathon apology at bottles in road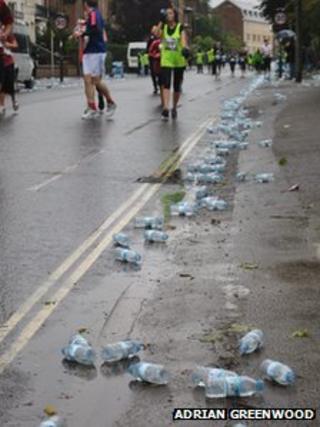 Oxford Half Marathon organisers have apologised after bottles of water were left strewn across parts of the course.
Only a small number of bins were put out after a problem with the supplier.
Resident Adrian Greenwood said his road was "caked" with bottles and complained runners were throwing them in "gutters, at cars and in front gardens".
Organiser Dave Box said competitors faced disqualification for discarding bottles dangerously and promised bins will be in place next year.
Mr Box said he was let down at the last minute but would not go into details about who the supplier was.
He added: "I had an hour's sleep the night before and we knew we would have to go out afterwards to collect the bottles.
"Iffley Road was a real mess. We felt terrible about it.
'Thump-splat'
"All I can do is apologise. We are going to resolve it for next year."
On the issue of the way bottles were discarded, he said: "If I, or our marshals, had seen any runner do that I would have disqualified them on the spot.
"They are told to put water [bottles] on the road."
Mr Greenwood said some of the bottles were cleared away after the race but he had to contact his local councillor in order to get the rest removed.
"I was rather sorry to see a worthy fund-raising event marred by this," he added.
"For two hours... one could hear the constant thump-splat of bottles being thrown in the gutter, at cars, in front gardens.
"Running for charity to my mind doesn't somehow absolve you of behaving considerately or environmentally sensitively as you run through Oxford."
The event attracted thousands of runners and was won by Anurahda Cooray in a time of one hour, six minutes and 56 seconds.