Australian Alex Marshall is world Pooh sticks champion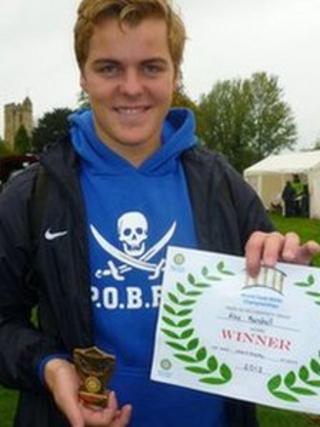 An Australian man is world Pooh sticks champion after taking the individual title at the 30th annual championships.
Alex Marshall, 30, from Mornington, near Melbourne took first place at the event held on the River Thames in Oxfordshire on Sunday.
Pooh sticks is based on a game played by teddy bear Winnie The Pooh in AA Milne's children's books.
Day's Lock, between the villages of Little Wittenham and Dorchester, hosted the 2013 event.
Mr Marshall had been in the county visiting relatives from Dorchester and was also a captain in the team event alongside fellow family members.
The winner is determined by whose stick emerges from the downstream side of a bridge after it is placed in the river on the upstream side.
This year's championships were postponed in March following heavy rainfall and flood alerts.
The event is organised by the Rotary Club of Oxford Spires with help from a number of local district clubs and societies.
It raises money for the RNLI, Little Wittenham Church and other local charities.