Badger cull demo in David Cameron's Witney constituency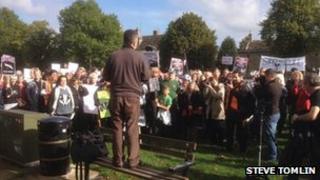 About 200 people have marched in Prime Minister David Cameron's Oxfordshire constituency of Witney in protest at the government's badger cull policy.
From 11:30 BST demonstrators proceeded through the town centre to Church Green waving banners bearing the slogan "Stop Cameron's Cull".
On Friday it emerged that the cull in west Somerset is to continue beyond the initial six-week trial period.
Saturday's protest was organised by wildlife charity Care for the Wild.
Dominic Dyer, from the organisation, said: "It's seriously damaging the reputation of farming... we hope the prime minister will listen to us and have the courage to dump it."
'Farce'
A licence was granted on Friday to extend the badger cull in Somerset until 1 November.
An application to extend it in the other trial area of Gloucestershire has also been received, the government agency Natural England said.
The extension comes after marksmen fell short of their target of killing 70% of the badger population.
Queen guitarist Brian May, who is leading the campaign against the cull, branded the approach an "utter failure" and described the application for an extension as a "farce".
The original plan was to kill 70% of badgers in the areas of west Somerset and Gloucestershire by free shooting.
Across both regions this meant around 5,000 badgers were to be killed in total.
Objectors believe the disease should be controlled using a vaccination programme, but the government says the cull is based on the "best available scientific evidence" and is part of a broader strategy for ridding England of bovine TB over the next 25 years.