Otmoor snipe population to benefit from soil work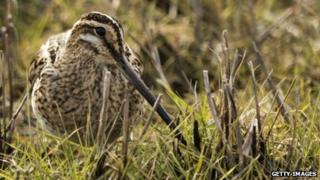 Work to help reverse the decline of a bird species is to be carried out on an Oxfordshire nature reserve.
Soil structure on the RSPB Otmoor reserve is set to be improved to make it suitable for worms, a major food source of snipe.
The RSPB said the site near Headington was "an ideal home for these captivating and enigmatic birds".
The charity's figures show long-billed snipe have suffered a 60% fall in breeding numbers since the 1980s.
As part of a five-year conservation plan for the 400 acre site, gypsum and an aerator will be used to loosen the soil, allowing air to penetrate, benefiting soil bacteria and the decomposition process which will encourage worms.
Manure sourced from a local farm will be spread to provide extra nutrients and organic matter.
Joe Harris, nature reserve warden, said: "We are justifiably proud to have snipe breeding on Otmoor, but there is still a lot of work we can do to make it even better for them.
The £109,000 funding for the scheme has come a grant by not-for-profit conservation business, WREN.