Wallingford stretch of river Thames to get wetland reserve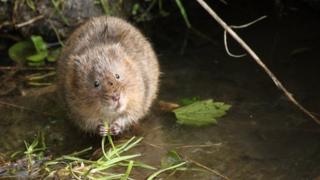 A new wetland nature reserve for threatened wildlife species is being created along an Oxfordshire stretch of the River Thames.
It is part of a £1m River Of Life project to transform 2.5km (1.55 miles) of riverbank in Wallingford.
The new habitat would benefit the water vole and otter, with the creation of backwaters helping fish populations.
Project partner the Environment Agency (EA) said the work would get the river into a "good ecological condition".
'National significance'
The EA is working in partnership with Earth Trust. Both organisations and public donations are funding the project.
For the first phase, backwaters will be dug to connect directly with the River Thames and new wetland habitats along the south bank will be excavated.
Future phases of the River Of Life will see these wetlands bounded by species-rich wildflower grassland, and new areas of wet woodland, using land owned by Earth Trust.
The completed project would benefit mammals such as water vole, bats and otters, bird species such as skylark, yellowhammer and corn bunting as well as a vast range of invertebrates and amphibians.
Earth Trust chief executive Jayne Manley said: "The sheer size of the wetland we plan to create and the opportunity we have to provide a safe haven for vulnerable wildlife makes this a project of national significance."