Arron and Rhianna Thomas ordered to repay £19,100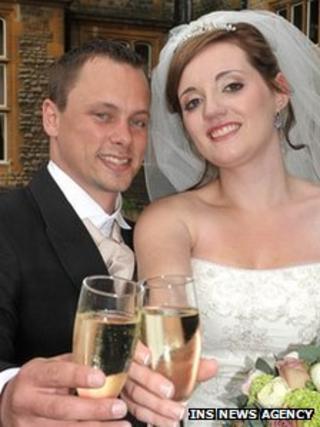 An Oxfordshire couple who paid for their wedding, a new car and breast surgery from fraudulent cheques have been ordered to repay £19,100.
Arron and Rhianna Thomas were convicted in May of fraud and possessing and transferring criminal property.
Arron, 33, worked as a ledger clerk for an Oxford building firm in 2011.
Under the Proceeds of Crime Act 2002, Oxford Crown Court ordered the couple to repay Arron Thomas's former employer from their available assets.
Between February and April 2011, Arron Thomas paid four fraudulently generated cheques worth £100,000 into his wife's account.
He had been employed through an agency at Grafton Merchanting in Cowley.
Once the money cleared into Rhianna's account, it was spent within 10 weeks on a "lavish" lifestyle, including a £14,135 car, a £420 cake and £4,250 on breast augmentation for the 24-year-old.
Following a trial, Rhianna Thomas, of Coopers Lane, Abingdon was handed a 15-month prison sentence, suspended for two years, for two counts of possessing and transferring criminal property.
Arron Thomas admitted five counts of fraud and three counts of transferring criminal property. He was jailed for 22 months.
He must pay a compensation order of £5,600 to Grafton Merchanting within six months or be imprisoned for three and a half months.
A compensation order of £13,500 was made against Rhianna Thomas. She must repay the amount within three months or she will be sentenced to eight months in prison.