Man charged over Goring-on-Thames dog catapult attack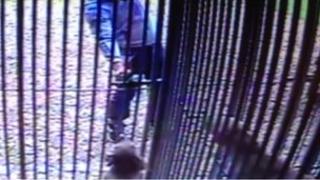 A man has been charged with causing unnecessary suffering to an animal after CCTV showed a dog having a rock fired into its face with a catapult.
A man was then seen fleeing when spotted by the cocker spaniel's owner at Elvendon Priory near Goring-on-Thames, Oxfordshire, on 17 September.
He sped off in a van with four other men.
Thames Valley Police said Mickey Smith, 29, of Sutton Lane in Slough, Berkshire, was charged on Sunday.
He was remanded in custody to appear before Oxford Magistrates' Court later.
The spaniel targeted in the attack was left bruised and sore but not seriously hurt, its owner said.