Undercover scrap metal police operation 'sloppy'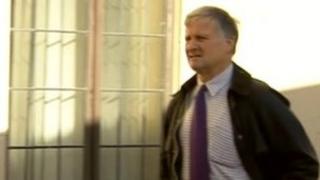 An investigation by undercover police officers who sold apparently stolen scrap metal to dealers was "sloppy and careless", a court has heard.
Five men were allegedly persuaded to buy stolen power and phone cables.
But recordings made during the operation that targeted TR Rogers & Sons near Oxford were described as "garbled" by the defence.
The men deny charges of attempting to conceal, disguise or sell on criminal property.
One of the undercover officers, known as "Andy", gave evidence from behind a screen at Oxford Crown Court.
The jury heard he and his fellow undercover officer, known as "Kinger", visited the yard in Nuneham Courtenay together on nine occasions between March and May last year.
The officer's notes say a nickname for the pair by one of the scrap dealers was "Dodgy and Dodgier".
'Nothing unusual'
But under cross-examination, Peter Stage QC, defending, said to the officer: "Your transcriptions of the visits are skewed.
"Bits that are favourable to the defence are generally left out or come out as garbled on the recordings submitted as evidence.
"You got sloppy and careless."
Mr Stage said on the officers' first undercover visit to the yard on 12 March, they portrayed themselves as "Mr Honest and Mr Reliable" who ran a company called King Construction, based in Merthyr Tydfil, Wales, rather than a pair of metal thieves.
He added: "The cable you brought into the yard was totally unexceptional.
"There was nothing unusual about it and tonnes of that type of cable gets traded every week.
"You wanted to start off safe and then ratchet your story up."
"Andy" denied being part of a deliberate ploy by him and "Kinger" to force the men into buying some stolen property.
He said: "If the cable was rejected, it was rejected. If they wanted to buy it, we sold it to them.
"It was as simple as that."
'Up all night'
The court heard the undercover officers brought power and phone copper cabling, and lead from a church roof, with them to the yard on more than one occasion.
They would say they needed to get rid of it quickly as they had "been up all night stealing it" and "the police were already looking for them".
On one visit on 11 April, a man referred to as Simon stopped the pair from unloading and selling BT cable as he knew it would be picked up and traced by regular police checks, the court heard.
The man told "Andy" he had been warned previously by officers and that the yard and its books would be thoroughly checked.
Terence Rogers, 70, of High Street, Drayton St Leonard, Simon Rogers, 42, of Bromsgrove, Faringdon, Ian Marshall, 29, of Evenlode Drive, Berinsfield, Martin Pace, 35, of Abbott Road, Didcot and Darren Andrews, 34, of Colwell Road, Berinsfield, deny the charges which relate to March, April and May of last year.
The trial continues.