River Thames' Whitchurch Bridge repairs-closure concerns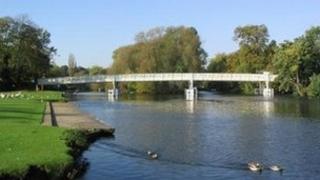 The closure of a Grade II-listed toll bridge over the River Thames between Oxfordshire and Berkshire is expected to cause major disruption.
Whitchurch Bridge, between Whitchurch-on-Thames and Pangbourne, shut earlier while it is rebuilt.
The private toll bridge currently carries 6,000 vehicles-a-day but is in a poor state of repair.
It will remain closed during the £4.3m reconstruction, which is expected to take seven months.
'Bad' for business
Geoff Weir, of bridge owners the Whitchurch Bridge Company, said it had "rusted and corroded" with a "key concern" that the supporting columns had started to crack.
"The closure is bound to cause major disruption and the villages of Goring and Streatley will see a lot more traffic going through them," he accepted.
Parking restrictions and diversions have been put in place by West Berkshire Council and South Oxfordshire District Council, he said.
Some local businesses are concerned the closure will affect takings and deliveries.
Royston Hine, who runs a butchers shop in Pangbourne, said it was difficult to estimate how much money he was likely to lose but added "it's going to be bad".
The current metal structure, which is expected to reopen on 14 April next year, was built in 1902. It was preceded by two wooden bridges at the site.