Spare room rules 'not working' in Oxfordshire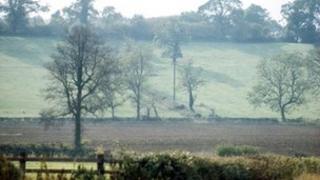 An Oxfordshire charity says rural families are suffering since housing benefit rules changed six months ago.
The removal of spare room subsidies from April aimed to free living space for overcrowded households.
Oxfordshire Rural Community Council (ORCC) said there were not enough homes for people in rural areas to downsize.
One couple, living in a four-bedroom house in Chipping Norton with their four young children, said they had been unable to find a smaller home.
Paul Bolton and Tony Bloomfield have to find an additional £98 a month in rent.
The change in benefit rules, referred to by opponents as the "bedroom tax", mean council and housing association tenants no longer receive housing benefit for rooms deemed as being spare.
Under the reforms, children of the same sex under the age of 10 are expected to share a room.
Jill Brooks of ORCC said the family's problem was replicated in rural towns and villages across the county.
She said: "People are finding it very difficult to upsize or downsize and the welfare reforms are making this more difficult.
"Oxfordshire is an expensive county to live in and there is a lack of affordable homes."
'No way out'
Describing their finances since the changes, Ms Bloomfield said: "Before the summer holidays things were very tight.
"It was skin of the teeth - just making it through.
"Through the summer holidays the kids have more meals [at home]... so we haven't been able to pay it over the summer holidays and now we are three months behind.
Mr Bolton said: "We are trying to move house but once you have rent arrears on your house it blocks your move as well. I can't see a way out of it."
On 30 July the government announced £35m of funding to help claimants affected by the changes, including £5m funding to the 21 most sparsely populated areas in the country.
Announcing the funding, minister for welfare reform Lord Freud, said: "Reform of housing benefit is essential.
"The removal of the spare room subsidy means proper support for the household remains, but the taxpayer does not pay for people's extra bedrooms."