Thame Youth Memorial Garden unveiled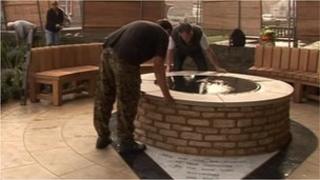 A memorial to young residents of an Oxfordshire town who have died has been officially opened.
Thame Youth Memorial Garden has been built alongside the town's War Memorial Gardens and Pearce Memorial for people affected by the loss of a young person.
The garden has taken four years of planning and cost about £40,000.
Its centrepiece is a water feature surrounded by benches and has plaques bearing the names of young people from the area who have died.
Nick Martin, whose brother, Tom, died of a brain tumour at the age of 17, said: "It's great to see his name here and knowing it will be here forever. It's a great feeling knowing he will not be forgotten."
Volunteer John Hedges said: "You can't go to a memorial by the side of the road with a group of friends. This gives people the opportunity to come and sit here - that's how it's been designed."
The land for the garden was provided by Thame Town Council, while local companies and volunteers have helped to make the plans a reality.
Thame Youth Memorial Trust is now trying to raise £6,000 to cover its loan for the final construction costs.
Peter Butt, chairman of the Thame Youth Memorial Trust, said: "I'm touched by how much people have wanted to help and this last £5, 000 - £6,000 just feels achievable.
"When people have seen what we've achieved they'll want to help us to raise that final amount."
Families who want their young relatives' names to be engraved on the memorial are urged to contact the trust.