First aider Gof Smith to have speeding dismissal reviewed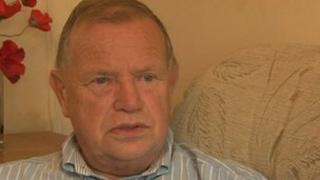 A volunteer first aider who was sacked for speeding on his way to an emergency call is to have his dismissal reviewed.
Gof Smith, a community first responder (CFR) from Faringdon in Oxfordshire, was dismissed earlier this month for driving at 33mph in a 20mph zone.
The 64-year-old, who has spent 15 years as a CFR, admitted speeding but called his sacking "brutal".
South Central Ambulance Service confirmed it is reviewing his sacking, with the result expected this week.
He said: "I'm glad to hear the service has decided to look again at my dismissal and I'm hopeful of what will happen."
More 1,500 people in Faringdon have signed a petition to have Mr Smith reinstated.
"That's a huge effort from the local community and I'm really grateful for everything they've done to support me," he added.
Mr Smith was dismissed after speeding while responding to an emergency call where a man had collapsed in the street in St Clements, Oxford, on 23 July. The man survived after being treated by Mr Smith.
His car was recorded doing 33mph by the ambulance service's in-car logging system as he drove through a 20mph zone.
Mr Smith says he did not realise the speed limit in the area.
A CFR is a volunteer trained to attend emergency calls received by the ambulance service and provide care until an ambulance crew arrives.
In a statement issued following Mr Smith's dismissal, South Central Ambulance Service said: "Anyone that represents our service at any time is expected to display high standards of conduct in the delivery of patient care to residents.
"It is made clear to CFRs in their handbook upon completing training that they must obey all road traffic laws without any exemptions."