Preston Likely honoured for 'Spider-Man' Iffley rescue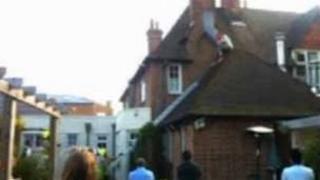 A man described by fire chiefs as "a real-life Spider-Man" after he scaled a drainpipe to rescue a toddler from a pub roof has received a bravery award.
Preston Likely climbed the drainpipe and crawled across the roof of The Tree in Iffley, Oxfordshire, to rescue two-year-old Charlie Stein in May.
The boy had got on to the roof after climbing a ladder leaning against it.
Mr Likely, 41, held on to Charlie on the seven-metre (22ft) high roof until the fire service arrived.
Chief Fire Officer David Etheridge, said: "The actions carried out by Mr Likely were very brave and he ultimately risked his own life to save the child from slipping off the rooftop."
He was presented with the Chief Fire Officers Commendation for Bravery at an awards ceremony held by Oxfordshire Fire and Rescue service.
'Vigilante rat'
Mr Likely, an artist and author from Littlemore, said his actions were driven by a childhood desire to climb trees.
"People tell me my actions were instinctive, but it was something I felt I could do because, as a child, I always wanted to climb things," he said.
"I didn't think much about the danger of the situation at the time. I just felt I had to act."
Reacting to being dubbed "a real-life Spider-Man", he added: "I'd describe myself as more of a 'vigilante rat' to be honest.
"I wasn't always the biggest Spider-Man fan growing up, but I'll take the comparisons."