Oxford University student flats on 'contaminated' land to open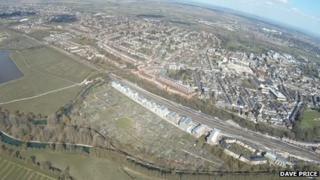 New £21.5m Oxford University flats will open for the start of term despite claims they were built on contaminated land, the university has said.
Oxford City Council is reassessing the Castle Mill development after taking legal advice and said the university was moving in at its own risk.
But a university spokesman said it was confident it was acting "reasonably and responsibly".
The Campaign to Protect Rural England (CPRE) said it was "appalled".
It is set to take its case over the flats on Port Meadow to the High Court, sitting in Birmingham, on 23 October.
The series of five-storey blocks will provide 439 units of graduate accommodation.
They overlook a Site of Special Scientific Interest and a Scheduled Ancient Monument, and are built on a former railway sidings site.
'Disastrous impact'
Helen Marshall, director of CPRE Oxfordshire, said: "Serious planning and environmental issues, including concerns over contamination, remain unresolved.
"The planning permission granted to the university expressly says that the buildings should not be occupied until a number of important planning conditions are met.
"If Oxford University is at all serious about seeking to resolve the disastrous impact of these buildings, it will defer student occupation.
"However, if they should seek to go ahead, the city council should use its enforcement powers to prevent student occupation."
A city council spokesman said: "We have advised the university that it would be occupying the development at its own risk and that planning conditions have not been discharged.
"The council is also taking legal advice on the options for enforcement, although we know the courts are reluctant to support early action until all options have been explored."
'Properly addressed'
A university spokesman said: "The university is to house students for the next academic year in the new graduate accommodation at Castle Mill as planned.
"We are confident both that the site is fully environmentally suitable for residential use and, after taking independent legal advice, that we are acting reasonably and responsibly in using the accommodation for its intended purpose.
"We have addressed all contamination issues on the site in their entirety and carried out all necessary remedial work, to the satisfaction of the city and environmental authorities.
"City officials have confirmed that the site contamination has been properly addressed and that the ongoing monitoring arrangements offered by the university meet the council's requirements."
An online petition against the development on Roger Dudman Way has attracted more than 3,000 signatures.