Oxfordshire County Council faces extra £61m in cuts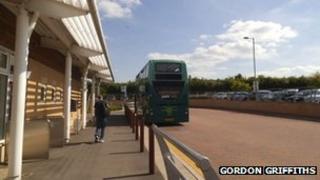 County council leaders in Oxfordshire have warned £91m will need to be saved over the next four financial years.
It had been thought the authority would need to save £30m, however that figure has now been increased after a government grant forecast.
Council leader Ian Hudspeth said: "It is a very challenging figure for us to make. We're looking at how we can work even more efficiently."
The government said everyone had to help pay off the "inherited deficit".
The fall in the Conservative-led council's funds also comes from council tax not increasing above 2% for the next two years.
It is trying to increase revenues by introducing short-term parking charges at the last two currently free council-owned park-and-ride sites next month.
The council plans to charge motorists £2 to park for between one hour and 11 hours at the Water Eaton and Thornhill park-and-rides.
This is expected to bring in £500,000 annually.
'Black hole' increasing
The council said its budgets have already been cut by £170m since 2010.
A Department for Communities and Local Government (DCLG) spokesman said: "Councils account for a quarter of all public spending and are forecast to spend £102bn this year - billions more than last year.
"Every bit of the public sector needs to keep doing its bit to pay off the inherited deficit.
"This government has secured a good deal for councils, including freezing council tax for a further two years and importantly, £3.8bn for adult social care."
Provisional settlements for individual councils will be set out later this year.
Peter Fleming, of the Local Government Association, said: "Councils have tried to protect the public from the cuts, but we're getting to the stage where the people will start to notice the difference."
"These won't be the last savings that councils will need to find. The 'black hole's' increasing by about £2bn a year, we reckon it's going to get to £14bn by 2020."
The council said no decisions had been made about cuts yet, but it would be looking at "all facilities and services".