Spanish toad 'healthy' after car crash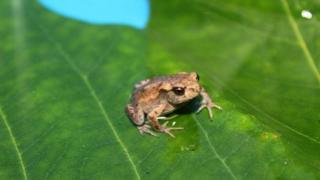 A toad which was squashed into the wreck of a racing car in Spain and unwittingly transported to Oxfordshire is said to be in good health.
The Aston Martin Vantage GT3 crashed during the 24-hour race around the Barcelona Grand Prix track on Sunday.
But earlier, during its dismantling at the manufacturer's Banbury base, the toad fell out of the car, along with mud, oil, and engine pieces.
Engineer Ben Sayer said: "It's well, but we're not sure what to do with it."
"I don't know what it's thought for the last week as it's sat inside a car, inside a truck, as it was driven back," he added.
The 1.5cm long amphibian has been nicknamed Barwell after the team that took part in the race.
'Illegal alien'
A Barwell Motorsport spokesman described the crash: "[Driver] Stefan [Mucke] was tagged in the left rear corner by a backmarker as he drove past it on the pits straight at 140mph (225km/h).
"He was then a passenger as the car was turned sharp left and hit the retaining wall at only slightly unabated speed.
"The car was severely damaged in the incident, and Stefan unfortunately sustained some injuries which (although not serious) put him in hospital for a few days afterwards."
Mr Sayer, from Prodrive, said the £500,000 car was embedded in the earth next to the circuit, where the toad is believed to have lived.
He added: "Lots of mud compacted in the engine compartment, so this morning when the guys were taking the engine apart and rubbing all the mud off the outside this tiny little toad dropped out.
"They put it in a tray with some big leaves and rainwater and it's still sitting there now.
"We want to release it because we've got a pond here but... I'll probably have the police turning up in a minute trying to find this illegal alien."