People with link to Oxford to be given housing priority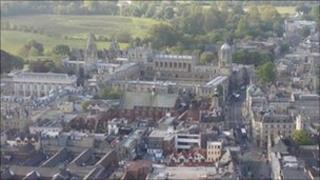 Only people with a "local link" to Oxford and savings of less than £16,000 will be able to register for the city's social housing under new rules.
A scheme that allowed tenants to bid for a house anywhere in Oxford, South Oxfordshire, Vale and Cherwell is also being dismantled.
Oxford currently has more than 4,700 applicants on its housing register, according to the city council.
However, only 550 properties are available to let every year.
Members of the armed forces and elderly people in sheltered accommodation will be the only exception to the rules.
Parents with children of different sexes will now also have to wait until their oldest child reaches the age of 10, rather than seven, before they become a council priority for a property with an extra bedroom.
'Housing need'
The Localism Bill has given councils extra freedom to set their own eligibility criteria, and the government has also directed councils to give priority to local people when it comes to allocating social housing.
The Local Government Association said restricting social housing to people with strong local links would not be "untypical" for most councils.
Slough Borough Council is also consulting on plans to give preference for social housing to those who live and work in Slough.
Oxford City councillor Scott Seamons said Oxford was an area with high housing need.
"We've built up to the green belt, and neighbouring authorities, it's hard to build any more, but Oxford is good for employment, there are a lot of students, that makes it very difficult to find enough housing," he said.
The new eligibility rules for housing are expected to be voted in at a full council meeting at the end of the month.