Oxford opens hidden areas to public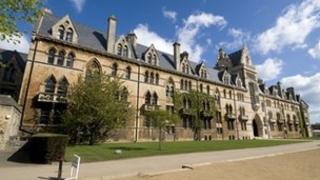 About 60,000 people are expected to visit Oxford's colleges, churches, theatres and landmarks during the city's annual open weekend.
The event allows people to explore areas in 185 different venues in the city usually closed to the public.
They include 40 university departments and colleges, including laboratories, where about 1,600 scientists work.
Car designer, William Morris, who died 50 years ago, will be remembered with tours of the Mini plant and bus museum.
Mr Morris, later Lord Nuffield, became one of the wealthiest men in the world after launching his motor cars.
He gave away £30m - the equivalent of £11bn today - in gifts to support education and medicine and was a substantial benefactor to the University of Oxford.
Bard's tavern
Although the open weekend takes place every year, the venues available change each time.
Other highlights include tours to wall paintings discovered behind oak panelling at a former tavern in Cornmarket.
The room is all that remains of the Crown Tavern, in which William Shakespeare is believed to have been a guest.
University areas which can be explored for the first time include Worcester College, St Hugh's College, Campion Hall and the Old Road Campus in Headington.
Christ Church, which opens biannually for the event, will open its cathedral, great hall, upper library and picture gallery which features artwork by Leonardo, Michelangelo, Raphael and Rubens.
Oxford Open Doors was established in 2008 by the Oxford Preservation Trust in partnership with the University of Oxford.
All venues open voluntarily and are free to enter.