First aider Gof Smith sacked for speeding on way to call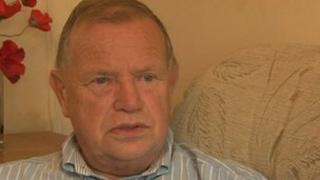 A volunteer first aider on his way to an emergency call said his dismissal for driving at 33mph in a 20mph zone was "brutal".
Gof Smith, a community first responder (CFR) with 15 years experience, feels "as if his soul has been ripped out".
Mr Smith, from Faringdon, Oxfordshire, admits he was speeding, but feels the decision to dismiss him was "harsh".
The ambulance service trust said volunteers were expected to obey road traffic laws.
A campaign has started calling for Mr Smith to be reinstated.
"It was a huge part of my life, I used to sit in my front room with the phone beside me waiting for it to ring," said Mr Smith.
"To help people out was something I felt privileged to be able to do.
'Standards of conduct'
"When I opened the letter from the ambulance trust and read the paragraph which said my services were no longer required, it felt like my heart was going to stop.
"I knew I had done something wrong, but I thought the response was brutal."
On the July day in question, Mr Smith was responding to an emergency call in the St Clements area of Oxford city centre.
His car was recorded doing 33mph by the ambulance service's in-car logging system as he drove through a 20mph zone.
Mr Smith says he did not realise the speed limit in the area.
In a statement, the South Central Ambulance Service said: "Anyone that represents our service at any time is expected to display high standards of conduct in the delivery of patient care to residents.
"It is made clear to CFRs in their handbook upon completing training that they must obey all road traffic laws without any exemptions."
Mr Smith says he would accept the points on his driving licence or attend a course in order to get his job back.