Criticised Henley triathlon shuts roads in town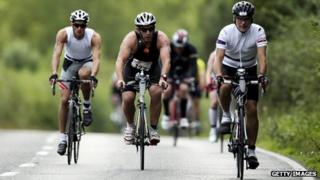 Roads in Henley have been shut for the day while 1,350 athletes compete in a triathlon race.
The event was earlier criticised by the town's MP and mayor for an apparent failure to consult residents ahead of the Challenge Henley event.
Three roads, in Nettlebed, Watlington and the main A4130 in to Henley are scheduled to be shut until 18:00 BST.
Alan Rose, from organisers Just Racing UK, said they had worked on feedback from local people to set the route.
The closures are affecting almost 800 households, but Mr Rose said they hoped most of the roads would reopen by 14:00 BST.
The closures were due to be in place for the 180km (112 mile) cycle race.
A 3.8km (2 mile) swim on the Royal Regatta course in the River Thames and a 42km (26 mile) run are also part of the triathlon.
Henley MP John Howell and mayor Stefan Gawrysiak said last week they felt traffic and trade impacts had not been fully considered.
But event director and Just Racing UK managing director Mr Rose said they had also undertaken a voluntary three-month consultation with all affected parishes and towns.
Additional marshals, including double the number of motorcycle escorts, have been provided by a specialist events team for this year's event.
Escort patrols will also help residents living within the affected route to leave the road closures at regular intervals.