Former Chipping Norton mayor Rob Evans loses cancer fight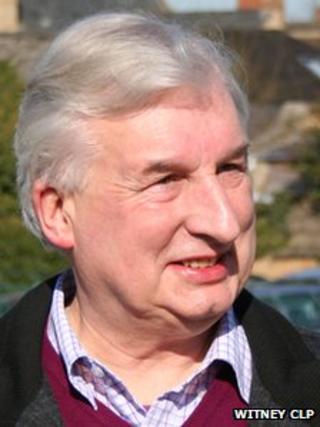 A long-serving councillor and former mayor of Chipping Norton has died after a year-long battle with cancer.
Rob Evans, who served as town, district and county councillor during three decades, died in the early hours of Sunday.
He remained a West Oxfordshire district councillor up until his death.
Chris Johnson, chair of Witney Constituency Labour Party, said Mr Evans had recently received a Labour Party Merit Award for his long service.
'Struggled on'
He had been a member of the Labour Party for 40 years.
He said: "We are absolutely devastated by Rob's death, although he had a diagnosis of cancer a year ago and we knew it was not good news, but he struggled on and kept to his responsibilities with the dedication we came to expect of him.
"He was just a lovely, gentle guy, entirely committed to the Labour Party and the Co-op Party and the Co-operative values, but just nice to everybody: the kind of person even his political opponents appreciated - a genuinely nice person."
Mr Evans was a Chipping Norton town councillor from 1983 to 2011 and served as a county councillor from 1997 until 2005.
He was mayor of Chipping Norton in 1995 and was elected West Oxfordshire district councillor for the Chipping Norton ward in May 2012.
Derek Cotterill, chairman of West Oxfordshire District Council, said: "Rob was extremely dedicated to representing the people of Chipping Norton and did a lot of good work on behalf of the town, where he was highly respected by all.
"He was a much-liked colleague and we are very sad to hear the news of his death. Our thoughts are with his family and friends."
Mr Johnson said Mr Evans's Welsh roots were very important to him and, in the weeks before his death, he was able to enjoy holidays with his family in Scotland and in Wales, when he went to the Eisteddfod.