Replacement footbridge opens for Cuttle Brook visitors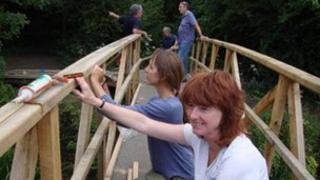 A new pedestrian foot bridge with better disabled access has opened at Cuttle Brook Nature Reserve near Thame.
It replaces a 15-year-old bridge which was dilapidated and too small for mobility scooters to access.
The bridge was designed and built by volunteers and funded by a £5,000 grant from Trust for Oxfordshire and Thames Town Council.
The Cuttle Brook Conservation volunteers group meets once a month to maintain the 30-acre site.