Olympics regeneration 'increased Oxfordshire landfill waste'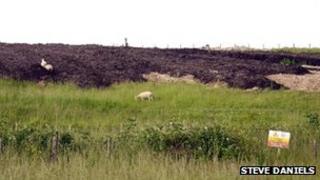 Oxfordshire must not become "London's dumping ground" after imported landfill waste went up due to work at the Olympics site, campaigners claim.
Oxfordshire County Council records show waste from the county over four years reduced, but imported waste rose.
Helen Marshall, from the Campaign to Protect Rural England, warned of "uproar" if it caused problems later.
David Nimmo-Smith, the council's waste chief, said material taken from the east London site "had to go somewhere".
He added the council, which does not receive money for the imports, was able to "take advantage" of the lack of landfill sites in London.
He said: "We have a lot of sites to fill... with quite a lot of lakes that can be restored for the agricultural use that they were put to before the gravel was extracted.
"Over the last few years we've had the Olympics in London.
"There's been a lot of commercial regeneration and the material taken away from those areas has to go somewhere."
'Absolute uproar'
Ms Marshall said: "Waste should be dealt with where it is generated, or as close as possible, otherwise you get the additional environmental impact of transportation, traffic congestion and fuel emissions.
"I'm sure there will be absolute uproar in the county if at some point… there were new landfill sites required just because we'd filled up our existing holes with waste from elsewhere."
Oxfordshire has four operational non-hazardous landfill sites with end dates ranging from 2019 to 2035.
Sutton Courtenay is the largest and has a rail link which has received large quantities of waste from the Olympics site in East London, the council said.
Other figures show household waste generated by Oxfordshire residents, and commercial waste collected by the district councils, has reduced.
In five years it has fallen from 179,733 to 125,818 tonnes.