Animal cruelty at Oxfordshire centre: Sentence upheld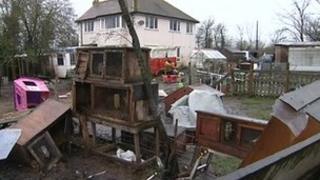 A mother jailed for neglecting animals at a family-run rescue centre has lost an appeal to reduce her sentence.
Angela Russell, 44, was convicted following a trial in July for neglecting animals at Crunchy's Animal Rescue near Abingdon, Oxfordshire.
Russell, from Faringdon Road, Longworth had her six-month sentence upheld on appeal at Oxford Crown Court.
Her son Robert, 25, was also jailed for 18 weeks and both were banned from keeping animals for 10 years.
In total, six family members who worked at the centre in Longworth were each convicted of 16 animal welfare offences following a trial at Bicester Magistrates' Court.
They included Angela Russell's father Frederick, 82, daughters Louise, 22, and Kirsty, 21, and niece Abigail McHugh, 21.
Frederick Russell was given a 26-week jail term suspended for 18 months and banned from keeping animals for life.
Kirsty Russell was given a four-month community order with a curfew and Louise Russell was given a 12-week prison sentence suspended for 18 months.
Both were banned from keeping animals for 10 years.
Abigail McHugh, from Swindon, was ordered to do 150 hours of unpaid work.
A total of 80 animals were seized in a three-day operation led by RSPCA officers in January 2012.