Wallingford church owners consider cinema idea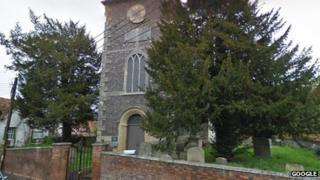 A 16th Century Grade II-listed church in Oxfordshire could be turned into a cinema to help breathe new life into it.
St Peter's Church, in Thames Street in Wallingford, is owned by the Church Conservation Trust but is only used about 10 times a year.
The charity is now looking for ideas on how to make better use of it.
Edmund McGregor, of the trust, said the church is already used for concerts but more could be done make it accessible.
'Fantastic heritage'
He said: "One idea that has been mentioned is showing films.
"That's not our primary idea - there's another local cinema that I don't think we should compete with - but it's one idea."
Other ideas, he suggested, include staging more concerts, exhibitions and public speaking events.
Visitors are however, currently put off going to the church, he said.
"It would put your average church visitor off if, when you get to the church, you find out you have to walk five minutes down the road to get the key from the tourist information office," he continued.
"They expect the doors to be open, to be able to walk in and look around.
"We want to be able to open the doors during normal working hours and we're very much now focused on using the building for the local community.
"We also want to open the doors up so that tourist can see our fantastic English heritage."
The Church Conservation Trust looks after 344 churches all over England, of which six are in Oxfordshire.