Oliver Kirk has ceramic skull implant at John Radcliffe Hospital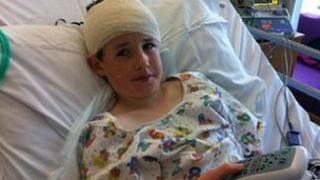 A nine-year-old boy from Oxfordshire has been given a new skull implant after a severe infection meant part of his own had to be removed.
Oliver Kirk, from East Hanney near Abingdon, underwent the first operation in February and then had to wear a cycle helmet to protect his brain.
He has now been fitted with a specially-created ceramic implant at the John Radcliffe Hospital in Oxford.
Between operations, parts of his brain were only covered by fluid and skin.
Oliver said: "An infection went up my nose and under my skull so... they had to take the skull out, and they then stitched the skin back over so you couldn't see the inside.
"When the skull wasn't there it was like a blancmange, because it was all squidgy, and there was only fluid there, and it wasn't symmetrical like heads would be."
Back to school
Doctors say the new ceramic implant will eventually fuse with his remaining bone.
His mother, Liz Kirk, said: "They made the decision to not put that bone back for fear the bone itself was harbouring some residual bacteria, so they kept it away for five months.
"He wore this helmet for that period and pretty much carried on as normal, and went to school.
"He wasn't allowed to do any significant sport, but in himself he was pretty much normal."
Surgeons at the John Radcliffe Hospital believe it is the first time the operation has been carried out in the UK in response to an infection.
Dr Shailendra Magdum said: "Ollie's case is, I think, the first case in this country to use this material.
"We had experience of doing it for a couple of cases of trauma but not for infection."
Liz Kirk said: "We were in shock that first couple of hours when they told us he would need to go straight into surgery, and be prepared for the fact that he'd probably have to have a fair part of his skull removed.
"It takes something big like that to make you appreciate the people around you, and the things around you, and that material things obviously don't matter.
"But life is very precious and his life, if not for the excellent care at the John Radcliffe... we may not have had that."