The Bone Season: Samantha Shannon on her novel's Oxford inspirations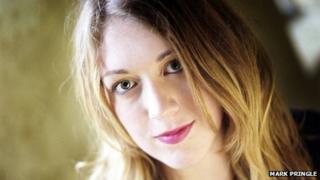 By the year 2059 Oxford will be a prison colony for clairvoyants.
They will be trained to use their powers against flesh-eating creatures that threaten to invade this world from another dimension.
This is the premise of The Bone Season, a book which earned its 21-year-old author Samantha Shannon "a six figure sum" advance from publishers Bloomsbury.
Not only that, its film rights have already been sold to Andy Serkis' film studio, The Imaginarium.
She describes the hype around the novel - set to be sold in 20 countries - as "overwhelming".
"I've had these characters in my head for two years and it's amazing to finally share them," she added.
The catalyst for the book's "divergent" universe is the first contact between immortals, known as The Rephaim, and humans, in 1859.
It enabled Shannon, who counts Margaret Atwood, George Orwell and John Donne among her influences, to create a world very much like our own, but different.
Originally from west London, she studied English Language and Literature at St Anne's College.
She said: "The Bone Season is urban fantasy. It's not a high fantasy where you're inventing a whole new land. It's strongly rooted in real places.
"People think I didn't enjoy myself at Oxford because I turned it into this horrible, crumbling prison city... but it's a very claustrophobic city, I found.
"It's very tightly built around the university and when you're there you almost forget there's a world outside it.
"I've been interested in Oxford as a setting ever since I got my interviews there but it was only when I got the idea for the clairvoyants that I thought it would be a great idea to have people sent there."
The result is a novel that makes inspired use of some of the city's most evocative landmarks.
The Residence of Magdalen
Paige Mahoney is imprisoned with Warden, her mysterious mentor, in Magdalen college's Founders Tower.
"It's always been my favourite Oxford college. Some of the colleges seem quite cold to me but with Magdalen it felt like you could be at home there in a funny way.
"It's got these wonderful grounds at the deer park and it was somewhere that reminded me of the character of Warden.
"It felt to me like somewhere he could live. It was a good fit."
The Residence of the Suzerain
One of the story's principal villains, The Suzerain, resides in the building we know as All Souls College.
"You're not allowed to go in unless you're a fellow.
"I felt kind of stupid going up to the porters and saying 'I'm writing a novel and I think that should give me leave to look in your rooms' so I had to imagine a lot of it.
"I genuinely do like to see places before I write about them but sometimes I just can't."
The Broad
"One day they were setting up marquees on Broad Street.
"It inspired me to have this shanty town there because it's a very wide street and I could picture it between the grand colleges.
"To me it was juxtaposing the squalor the humans were forced to live in and the grand colleges where The Rephaim live on either side."
Port Meadow
"I've always loved Port Meadow and as soon as I saw it I thought this needs to go in a book.
"The first thing that strikes you is how completely massive it is. It's an enormous piece of land with cows and horses wandering around on it. In the morning it goes all misty and looks mysterious.
"In the novel it's a training ground for the clairvoyants.
"It's got fences around it with poltergeists inside them. It's kind of a tease because if only Paige could get over that gate she'd be away into the woods, but she can't."
The Old Church
"In the book St Mary The Virgin is a crumbling structure badly affected by a rebellion that happened in the penal colony's history.
"It represents the crumbling of the original religious influence of Oxford.
"Under law they're not allowed to acknowledge that there's any kind of afterlife. Churches have either fallen into disrepair or have been reassigned."
Amaurotic House
In the book's penal colony human servants are segregated from those who are clairvoyant.
"I used to walk past Blackfriars every time I walked into town.
"It's got this gate at the front with its name written over the top.
"It's quite a small building and it looked like somewhere people could be tucked away. The barred gates looked like a little prison to me."
The House
"Apparently The House is an old name for Christchurch College.
"It's where forbidden items are stored and Paige has to sneak in there, and it's implied that Tom Tower, which is the big, distinctive bell tower of Christchurch, has had a dark purpose in the past.
"It's too big to be one of the residences so it became this place where things are hidden, with lots of passages to sneak through. I always thought the tower was daunting."
The Room
"Dodgy things are going on in The Room.
"It's not really mentioned that much because I almost think it's better not to explain things sometimes because it creates more fear around it if you're not sure what's going on.
"I've been in the Radcliffe Camera before, but only twice, and just to read books I couldn't get in my college library."
The Bone Season also has pivotal scenes set in London and Dublin, and hints of a dystopian world far beyond.
With six more novels in the series planned, it means many more settings are heading for a 2059-style makeover.