Safety fears over Oxford Canal tree growth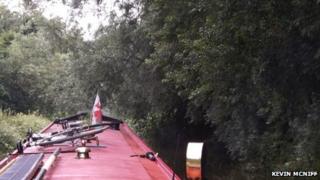 Narrowboat owners have raised safety concerns over a stretch of canal in Oxfordshire.
Kevin McNiff, of the Russell Newbery Register group of canal enthusiasts, claimed work to clear vegetation on the Oxford Canal was being neglected.
He said overhanging trees were damaging boats and causing dangers for boat owners and walkers on towpaths.
The Canals and River Trust blamed the summer weather conditions for "quicker than expected" growth.
Mr McNiff, who has lived on a narrowboat for 12 years, said the situation on the 20 mile (32km) stretch of canal between Hawkesbury and Oxford had "deteriorated over the past 12-15 months".
He said it was now difficult to spot obstacles ahead and in places it was no longer possible to stop and disembark a boat in an emergency.
In addition long grass on the towpath meant it was difficult for walkers to clearly see the edge of the canal which he described as a "real hazard".
Jeff Whyatt of the Canal and River Trust, which manages the waterway, admitted some areas had got "a little overgrown".
"I want to reassure boaters and members of the public that we are tackling the problem and will be out the next few weeks and months cutting back trees and bushes in the biggest problem areas."