Oxford city centre abandoned bikes go to homeless charity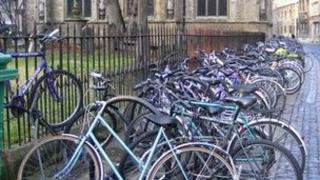 Abandoned bicycles around Oxford are to be donated to a community programme which teaches homeless people maintenance and repairs.
Oxford City Council will provide the Broken Spoke Bike Co-op with a proportion of bicycles for participants on its Build-a-Bike courses.
Last year, 119 abandoned bikes were removed by city council officers.
The Build-a-Bike courses allow participants to keep the bikes for themselves at the end.
Ellie Smith, from Broken Spoke, said: "Not only are we diverting abandoned bikes from the waste stream, we're also giving Oxford residents an opportunity to learn practical skills and take direct ownership of how they get around."