Blenheim Palace's £180,000 hydro power scheme plans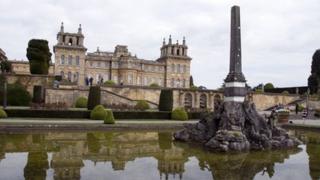 A £180,000 hydropower scheme is to generate "clean electricity" at Blenheim Palace in Oxfordshire.
The stately home, a World Heritage Site, will install the "Archimedean screw" design of hydropower with renewables firm Hallidays Hydropower.
Fitted on the River Glyme, at Bladon Dam, the technology will be within landscape designed by architect Lancelot "Capability" Brown.
It is expected to power the equivalent of 18 homes.
Churchill's birthplace
The move is expected to cut carbon emissions and is part of measures to make the palace one of Britain's greenest.
Two giant water turbines, installed at Romney Weir on the River Thames, are already being used to power Windsor Castle.
The scheme at Blenheim Palace, which was the birthplace of Winston Churchill, is expected to have a lifespan of 40 years.
Subsidies for electricity generated from small-scale renewables, known as feed-in tariffs, will provide an estimated £12,600 a year for the scheme, over the first 20 years.
It is also expected to save the estate, which is home to the 11th Duke and Duchess of Marlborough, at least £5,760 a year on energy costs at current prices, adding up to an estimated return of around £18,000 a year.
Blenheim has already installed solar electricity (PV) panels and 40 ground and air source heat pumps for heating across its buildings.
'Fish-friendly'
There are also plans for two biomass boilers and a second hydropower scheme in 2014.
The Archimedean screw turns as falling water from the top of the dam flows through it, activating a turbine and generating power.
It is considered to be "fish-friendly" and have a low impact on the river.
A side stream is also being developed to help fish navigate the dam, improve spawning grounds and improve the habitat.
Roger File, property director at the palace, said the scheme would make up the majority of the 60,000 kilowatt hours of clean energy the estate was planning to generate a year, by the end of 2013.
"Micro hydro is set to play a starring role in our drive for energy independence, efficiency and environmental performance," he said.
He added the scheme "made sense environmentally and financially".
Hallidays Hydropower said the technology would work "in harmony" with the landscape "at the same time enhancing the local habitat and environment".