Oxfordshire collapsed road repairs could take four months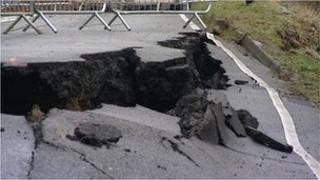 A road that split in two after heavy rain could take up to four months to repair, a council has said.
The A4183 at Bagley Wood in Oxfordshire shut after collapsing in December and work to rebuild the embankment is only just due to start.
County councillor David Nimmo Smith said a "substantial amount of work" had been undertaken at the site including a detailed ground survey.
Works are expected to cost £1m. It is hoped the road will reopen in December.
'Significant impact'
Cllr Nimmo Smith said: "The loss of this road has had a significant impact on people in the locality as well as those who used it to commute and I am pleased we are now in a position to put things right.
"It was very important that the right solution was found and that work could start while weather allowed us to make good progress."
Contractors have already started preparing the site.
Residents had raised concerns about a sharp rise in traffic travelling through Kennington with drivers using the village as an alternative route.
The stretch of the A4183, about two miles from Oxford's city centre, links Oxford to Abingdon.