Oxford hospitals apply for smoking shelters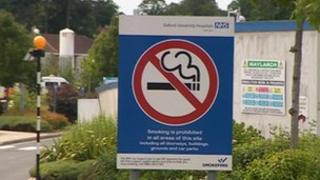 A hospital trust has applied for planning permission to install smoking shelters at its four hospitals.
One shelter would be outside a maternity unit and another outside a cancer patient centre.
Oxford University Hospitals NHS Trust has had a ban on smoking since 2007 but now accepts it was not "enforceable".
The trust wants to install 12 smoking shelters at John Radcliffe, Churchill and Nuffield Orthopaedic hospitals in Oxford, and Horton General in Banbury.
Mark Trumper, director of development and estate at the NHS trust said it would "continue to discourage smoking" on all of its hospital sites, but had "taken the decision to establish a limited number of smoking shelters for patients and visitors".
He added they would "create a more appropriate environment" around entrance areas where smokers "historically" have caused "a significant problem".
Angela Harbutt from pro-smoking lobbying organisation Forest said it was "the right of every adult" whether to take advice on smoking.
The National Institute for Health and Care Excellence (NICE) has issued draft guidance to hospitals on smoke free policies it should adopt as a matter of best practice following a three-month consultation.
The planned shelters go against these guidelines, and professor Mike Kelly from NICE said: "I don't think installing smoking shelters is a good idea as it sends completely the wrong messages. Smoking is not OK, it is deadly."