Oxfordshire County Council draws up £25m budget deficit ideas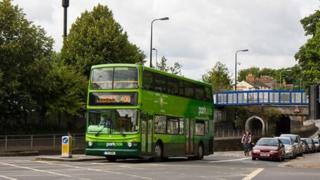 New bus lane fines and renting out a council chamber for weddings are schemes being considered to make extra money for a local authority.
Oxfordshire County Council is looking at how it can generate revenue to plug an anticipated £25m deficit.
A motoring group believes fining drivers would be unfair and unjust.
The council's cabinet member for finance, councillor Arash Fatemian, insists nothing has been ruled in or out of their considerations.
A drop in central government funding in 2014/15 means the county council is looking to save money without cutting jobs or services.
Bus lane fines on Botley Road, Oxford, where cameras could be installed, are currently collected by Thames Valley Police.
Rule breaking
Mr Fatemian said: "We're looking closely at how strong a business case each idea has and seeing if there are any areas where we could charge for services that we currently do not.
"There's a strong chance if you put a camera in on Botley Road, people would stop breaking the rules.
"That idea is more to illustrate how we're looking right across the board at anywhere we might be able to generate new income."
Alliance of British Drivers spokesman Roger Lawson felt cashing-in on drivers would be unjust.
He said: "There's all kinds of ways revenue can be generated. Why should motorists have to subsidise the rest of the community?"
The county council's cabinet is due to recommend any new ideas in December for approval by full council in February.