Greys Court 'hidden' buildings revealed by heatwave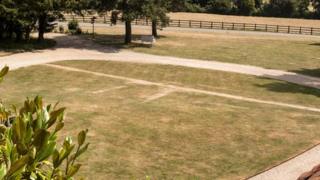 The heatwave has revealed the site of former buildings at a 16th-Century mansion in Oxfordshire through severely parched areas of grass.
The marks at Greys Court, a National Trust property near Henley-on-Thames, show outlines of structures and courtyards from around the 1550s.
It has not been excavated but suggests the building was once much larger.
Archaeologist Gary Marshall said: "It's like seeing an X-ray of the archaeology beneath."
The marks reflect different moisture conditions in the ground, with walls showing up as light marks.
'Buried evidence'
They could disappear "forever" if subjected to either a further period of dry weather or a prolonged period of rain, experts say.
It means archaeologists have a short period to study the markings and map the area.
Mr Marshall added: "The Greys Court parch marks are some of the best I have seen and suggest that the buried evidence survives just below the surface.
"They correspond with evidence from an early 17th Century engraving that was reprinted in the 19th Century.
"The marks tell us that there were walls, probably brick, extending across the existing forecourt which divided this space in the 16th Century into an outer or 'base' court and a more formal inner court."
The buildings, which provided accommodation along the east and west sides of the court, are thought to be the work of Francis Knollys, and were later demolished in the 17th Century.
The hot weather has revealed additional evidence of 18th Century flower beds at Cliveden House Hotel in Taplow.
New sites were also discovered during the hot summers of 1975 and 1976, and 1994 and 1995.