Protest over plan to scrap Oxfordshire free school buses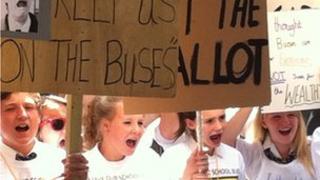 School children and parents have staged a protest outside Oxfordshire County Council before plans were discussed to end some free buses to schools.
The demonstration included 40 children and parents from the Warriner School in Bloxham, Burford School and St Swithuns in Kennington.
The council proposes stopping free transport for pupils who do not attend their nearest school.
It has deferred the decision but still debated the move.
Council Leader Ian Hudspeth said the decision had been deferred to allow more time for consultation with parents and schools.
'Minority affected'
The government also made changes to school transport consultation arrangements on 11 July.
Oxfordshire County Council says it currently provides free school transport "above and beyond" the national level.
According to the authority, under the proposals only a minority would be charged for travel as the majority of children qualifying for free transport attend their nearest school in the catchment area.
It added that children who already benefit from free transport would not have it taken away.
But the changes would affect children starting school from September 2014.
Parent Perran Moon said: "I think a lot of people across the county were shocked, amazed and dismayed at the way that these proposals have been sneaked through.
"It will split our family, we'd have to send one of our children to one school and send two of our children to another school."